Organising a global conference for Early Career Researchers isn't a simple task. So we asked ERG  convenor Saneeya Qureshi to share her experiences in leading teams of ECRs on the design, organisation, and execution of two major conferences – the global EERA Emerging Researchers Conference (ERC 2021) and the UK National Postdoc Conference (NPDC21).
These conferences followed on the heels of the fourth year of the thriving Making an Impact Series, which she led for the University of Liverpool since 2018, and which has recently received the recognition of being shortlisted for the 'Academic Engagement of the Year' category in the prestigious UK PraxisAuril Knowledge Exchange Awards.
For each event, the ECR teams engaged 2000+ individuals across various associated activities and sessions. Each flagship activity is co-created and co-designed with a community of Early Career Researchers (ECRs) and internationally recognised thought leaders.
So, what's the secret of organising successful global conferences for Early Career Researchers? For Saneeya, the skills learned during her PhD were critical.
Working to such a scale, on time and on budget, juggling coordination with multiple individuals who are sometimes spread across continents, demands an entirely unique set of academic competencies for which my PhD had nominally prepared me. However, having now been the lead organiser for these exponentially growing events since 2015, it's fair to say that I am now an old hand at the helm. In this post, I share my top tips for designing, planning, and executing conferences for ECRs, which I think are worth particular consideration by any conference lead – however small or large-scale an event may be.
Reflect on your Intended Return on Investment
Using the base of genuine co-creation and co-design of activities with those from whom they are intended, i.e. ECRs, it is advisable to ensure that all aspects of planning and organisation from the outset take into account the post-event benefits to participants and to their organisations/ research associations. Focus on the short-term and long-term outputs, outcomes and impact upon ECRs' practice, knowledge, skills, and attributes. Allow time during a programme (and encourage post-event protected time) for participants to have dedicated time and space for reflections during and after an event – you could even provide your own self-reflection logs. These are examples of how to ensure that you plan for the best possible return on investment (Bromley & Warnock, 2021).
Consider Value for Money (but don't compromise on quality!)
This is especially important in the post-Covid context of reduced financial capacities for institutions and educational associations. I am very aware of the expected versus final development cost per participant for all the events I lead. This usually involves discussions with session speakers and facilitators about pre-and post-session open access resources, along with a fair bit of pre-event negotiation about sessions with number caps, to account for high no-show rates.
With the advent of the online-pivot arising from the pandemic, and future hybrid and hyflex working approaches (Gaebel et al., 2021), it is worth being even more mindful of the pressures on ECRs' time and the resultant impact on their abilities and best-laid intentions to engage with planned activities. This means ensuring that the programme design respects participants' time and meets their needs simultaneously.
Shine a Spotlight on Accessibility and Inclusion across Every Aspect of the Event
The NPDC21 has been hailed as a sector-leading example of how accessibility, inclusivity and equity of access and engagement were at the forefront of every single aspect of the participant experience. This accessibility ranges from pre-event communications and networking activities to the manner in which speakers introduced themselves during sessions, and the use of sign language interpreters and professional transcription as the norm, to the post-event resources and sharing of best practices.
It is worth noting the difference between equity and equality (Hardie, Fernando and Turbill, 2021) – and that inclusivity considerations must also be reflected in the profile of the speakers and facilitators who lead sessions, and in the pre-and post-event resources that participants can access freely at any time, for instance, the NPDC21 Virtual Delegate Pack.
Don't Lose Sight of Networking and Engagement Opportunities
Related to the above point about how time-poor we increasingly find ourselves, it is important to consider the immeasurable hidden benefits of conferences that result from ECRs' networking and engagement activities (Merga and Mason, 2020). This includes not just the provision of opportunities for ECRs to network with each other and senior academics (such as
this ERC 2021 session
), but also incentivised activities that happen during and post-events, such as the EERA
Best Poster Award
and the
Best Paper Competition.
Prioritise the Human Welfare Aspect
Mental health and wellbeing should be a cornerstone of any ECR event.
Johnson and Weivoda (2021)
affirm that the "need to elevate and support ECRs at all stages to ensure they have access to peer networks, supportive mentors, mental 
health resources, information about alternative career options, and appropriate career-stage opportunities."
Building on the excellent tips offered by Byrom et al. (2020), for the NPDC21, we created a Wellbeing Oasis that was signposted before, during, and after the event. These self-led resources include guided meditations, yoga sessions, relaxing music, nature observation, and more, coupled with active wellbeing sessions that were specifically facilitated during the event, showing participants how we prioritised their overall sense of wellbeing. We even included aspects of wellbeing in the Conference Bingo activity to ensure this priority message was communicated in different ways.

  
Listen to the Voices of the Community
It goes without saying for any activity, organisers must put the individuals for whom the event is meant at the heart of all the planning, design, and execution. As one example that informs this aspect, the UK has recently witnessed a burgeoning focus on nurturing positive and inclusive research cultures and research environments. Indeed, the Concordat to Support the Career Development of Researchers provides a framework around aspects of employment, culture, and environment, professional and career development for researchers.
To further bolster community voices, each event was led by a steering group consisting of a cross-section of diverse disciplinary, career-level, and geographically spread representatives who meet regularly to feed into and support every stage of the event from conception to post-event reflections.
It goes without saying that for flagship events, as lead organiser, you should have a backup plan for your backup plan! For me, part of the preparations involved:
Comprehensive pre-event briefing sessions with key stakeholders, speakers, and the wider team behind-the-scenes, supplemented with notes and useful resources that would help them add value to the overall event.
A regularly updated FAQ section to empower participants to troubleshoot any issues themselves first. We signposted the NPDC21 FAQs in every single communication that went out before and during the event, whether via email, social media or in-person meetings and sessions. We did the same for EERA's use of the OnAir Platform via an eminently visible and accessible 'Help' Button, through which participants could video call a support colleague, or simply type in their queries for an interactive chat.
For wholly online events, plan for backup platforms, in case the main platform goes down.
A constantly-manned helpdesk and email address, which has a pre-scheduled auto-response message answering commonly-asked questions, and flagging the FAQ page.
And Finally, Enjoy the Event! 
A well-designed and well-prepared event means less stress for you on the day, and more opportunities for you to engage with participants, whether in person (via Zoom or face to face), or via social media. By having the time to dip in and out of all the 100+ Zoom-based parallel sessions during the ERC 2021, and the 30+ sessions of the NPDC21, I was absolutely delighted to meet participants, chat with them and understand even more about what the event meant to them.
It was, for instance, through conversations such as these that I talked with 3 ECRs who were between 7-9 (yes 9!) months pregnant, and who were so happy that the online programmes meant they could participate. Some sessions were also chaired by ECRs who themselves has small babies in their laps – upon whom I was able to bestow the titles of 'Cutest' or 'Most Adorable' or 'Most Endearing' 'Baby EERA Emerging Researcher Award'!  
The impact of a well-organised and well-designed event is inestimable – not only on the participants and key individual stakeholders – but on the overall national and international reputational gain for an institution or national association. Having an engaged and committed steering group that makes teamwork and organisation easy is half the battle won, and I am constantly reminded of this quote,
"Alone we can do so little; together we can do so much" – Helen Keller
As with a PhD, the most challenging parts of making any activity or initiative go smoothly are always the ones that are most satisfying at the end. Or in the words of the renowned  American opera singer: 
"There are no shortcuts to any place worth going." – Beverly Sills
On a closing note, there is no better last word to be had than by the participants themselves across these events. The participant feedback for the NPDC21 can be found in this MURAL Board.
For the ERC 2021, feedback could be summarised in this testimonial,
"The Emerging Researchers' Conference was useful in creating bridges and connections between students, researchers, and teachers, promoting open and critical reflections, discussions, and dialogues about educational research. I think that the experience of participating in ERC was very rewarding, since I was able to share my Ph.D. research work in a free and plural environment of critical reflection and collective debate."
Other blog posts on similar topics:
References and Further Reading
Bromley, T., & Warnock, L. (2021). The practice of the development of researchers: the "state-of-the-art". Studies in Graduate and Postdoctoral Education, available at: https://www.emerald.com/insight/content/doi/10.1108/SGPE-12-2019-0084/full/html
(accessed 26th October 2021).
Byrom, N., Jackman, P., Zile, A., James, E., Tyrrell, K., Williams, C. J., Haughey, T., Sanderson, R., Priestley, M. and & Cogan, N. (2020). Call to Action: How can universities support doctoral and early career researchers during COVID-19 (and beyond!), available at: https://pure.ulster.ac.uk/ws/files/91095601/Article_Suggestions_for_Institutions_and_Supervisors_FINAL.pdf(accessed 26th October 2021).
Gaebel, M., Zhang, T., Stoeber, H., & Morrisroe, A. (2021). Digitally enhanced learning and teaching in European higher education institutions. Survey Report, available at: https://eua.eu/downloads/publications/digi-he survey report.pdf (accessed 26th October 2021).
Hardie, G., Fernando, M., & Turbill, J. (2021). Equity, Equality and Digital Inclusion: Evidence of practice from an Australian University. In Academy of Management Proceedings (Vol. 2021, No. 1, p. 12677). Briarcliff Manor, NY 10510: Academy of Management, available at: https://journals.aom.org/doi/abs/10.5465/AMBPP.2021.12677abstract(accessed 26th October 2021).
Johnson, R. W., & Weivoda, M. M. (2021). Current Challenges for Early Career Researchers in Academic Research Careers: COVID‐19 and Beyond, available at: https://asbmr.onlinelibrary.wiley.com/doi/full/10.1002/jbm4.10540 (accessed 26th October 2021).
Merga, M., & Mason, S. (2020). Early career researchers' perceptions of the benefits and challenges of sharing research with academic and non-academic end-users. Higher Education Research & Development, 1-15, available at: https://www.tandfonline.com/doi/abs/10.1080/07294360.2020.1815662 (accessed 26th October 2021).
Vitae Concordat (2019), "Concordat to support the career development of researchers", available at: https://www.vitae.ac.uk/policy/concordat  (accessed 26th October 2021).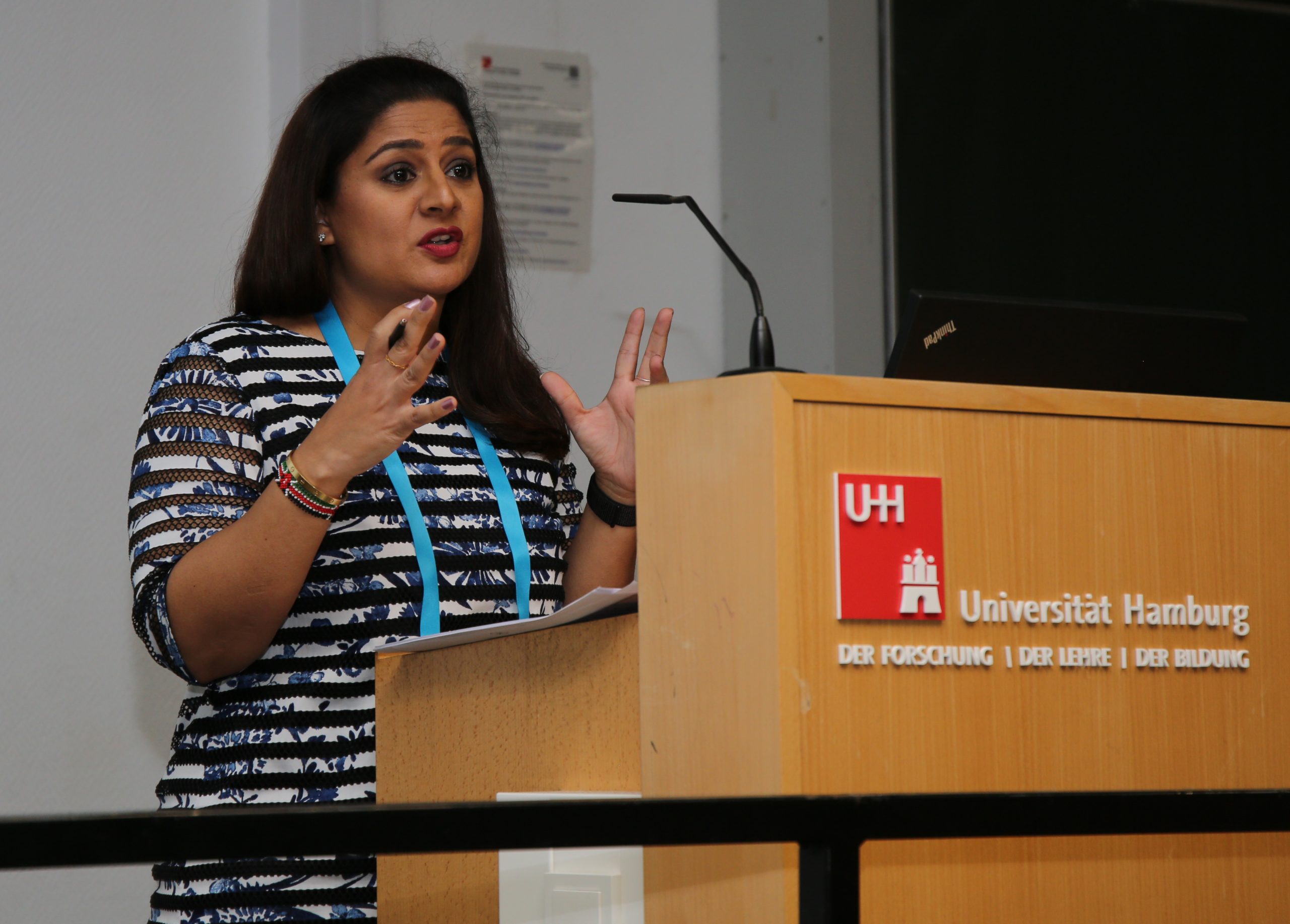 Saneeya Qureshi
Head of Researcher Development and Culture at the University of Liverpool, UK
Dr Saneeya Qureshi is the Link Convenor of the Emerging Researchers Group for the European Educational Research Association (EERA). She is also the Head of Researcher Development and Culture at the University of Liverpool, UK. She is responsible for the University's provision for researchers at all stages of their careers. She manages activities related to the University's European Commission's HR Excellence in Research Award, liaising with stakeholders regarding Liverpool's commitment to the development of its Early Career Researchers.
She holds a PhD in Inclusive Education, and has over 15 years of experience in teaching and educational management in the UK and internationally.
Since 2015, Dr Qureshi has been a co-opted member of the EERA Council where she represents emerging researchers' interests. She leads an annual programme of EERA's developmental and capacity building activities for emerging researchers, including the annual Emerging Researchers Conference. She is also an Editorial Board member and a reviewer for several international educational journals. She can be found on Twitter